Quickly consult our archives filtering by year :
Swiss HLG 2018 Summer Conference – was an excellent illustration of how two associations collaborate towards a SUCCESSFUL event!
Basel, 16th May 2018 – Swiss HLG hosted its 28th Conference titled " Innovation in Healthcare: from Technology to Business Models and Transactions." , a joint event co-organized with Pharma Licensing Club France (PLCF).
Both Swiss HLG and PCLF invited speakers from both countries to share with the audience their successes and above all how partnering influenced success.
Once again, attendance was a real success with around 130 delegates from Switzerland, France, Germany and other European countries.
The conference started with an insightful introduction from Patrick Aebischer, President emeritus, Brain Mind Institute at EPFL, on critical components and factors to build a successful innovation ecosystem between universities, research institutes, tech transfer offices, accelerator, and entrepreneurship.
Following the opening keynote, we had a series of inspiring presentations held by Jurgi Camblong (CEO of SOPHiAGENETICS), Mondher Majoubi (CEO of Innate Pharma), Hervé Affagard (CEO MaaT Pharma), Andreas Emmenegger (CFO of Molecular Partners). Beyond great insights on their promising technologies, participants could learn how they embraced partnering as a cornerstone strategy for the development of their company.
The event closed after a great panel moderated by Marc Ceulemans (Head of Strategic Investment from Novartis), with Michele Ollier (Partner atMedixci), Christoph Kausch (Partner at MTIP), Jean-Philippe Tripet (Partner at Aravis) and Marie Petit (Principal at Villiger Valuation) which touched on various topics such as cultural differences when building and financing start-ups between Europe and the US; key success factors for a start-up, and financing challenges in some countries.
Last but not least, for the first time, we interviewed some of our speakers, and we will be pleased to share their insights very soon.
Please find below some images from the conference. (Please click on the image to view it in its entirety and or a slide show.)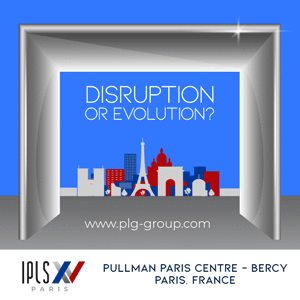 Swiss HLG, member of the European Pharma Licensing Council (EPLC), invites you to join the International Pharma Licensing Symposium in Paris

Without question we live in interesting times, the 15th IPLS has been
designed to explore some of the more disruptive influences and opportunities in the life science industry today.

Two days of informative presentations from industry leading speakers, peer to peer networking, one-to-one meeting opportunities and continuous personal development, all in the world's most popular and dynamic city, Paris.

Conference Programme Includes:

Contemporary Trends in Pharma Business Development
Artificial Intelligence
Medical Cannabis
Evolution of Business Development Teams

Ageing, a New Field of Investigation & Investment
The Continuum of Ageing & Age-Related Diseases
Ageing Opportunities in Pharmaceuticals
New Therapeutic Advances

And much more, including 7 hours of dedicated one-to-one partnering
Full Programme & Event Website

REGISTER ONLINE NOW
XV International Pharma Licensing Symposium
Pullman Hotel Paris Centre – Bercy
Paris, France
Wednesday 18th to Friday 20th September 2019

Who Should Attend? Business Development Professionals, Managing
Directors, General Managers, Business Owners, Investors, Advisors,
Financial, Marketing& Regulatory Executives

REGISTER ONLINE NOW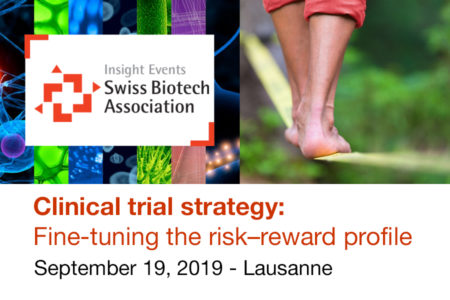 Swiss HLG would like to inform you of an excellent workshop organized by our partner the Swiss Biotech Association with top speakers.
This first in a series of Swiss Biotech Insight Events will address major clinical trial strategy challenges, while exploring exciting new solutions including real world data science, adaptive clinical trial design, biomarkers and more.
Join us to hear from top experts from throughout the world and share your knowledge and experience.

Go to event web page or register here
Clinical trial strategy: Fine-tuning the risk-reward profile
Thursday, September 19, 2019, 13:00 – 18:30
Paternot room at Agora Cancer Research Centre, CHUV, Rue du Bugnon 25A, Lausanne
Swiss HLG will be present at The Swiss Biotech Day. Come and visit us!
The Swiss Biotech Day has long become the standard annual get-together of the Swiss bio­pharmaceutical industry. And Basel, as one of the most vivid cities in terms of biotechnological and pharmaceutical research, development and production, proved to be the ideal location.
The SBD is not just the place to be for members of the Swiss Biotech Association, who traditionally meet there for the association's Annual General Assembly. As always, the event targets entrepreneurs, investors, researchers, analysts, BD&L, political decision makers, industry stakeholders and media.
Event highlights in 2019 will be:
· 700+ attendees from 20+ countries
· Presentation of the Swiss Biotech Report
· Swiss Biotech Success Stories
· Parallel tracks in the afternoon focused on innovative biotech start-ups and medium-sized biotech companies
· Thematically focused panel discussions on e.g. finance, production and licensing
· Pre-scheduled one-to-one partnering meetings for all attendees
· High-traffic exhibition with ongoing catering