Virtual Conference Series 2021
Digital Health – Accelerated by the pandemic, 13th April 2021, 3.00pm – 5.30pm CET
Creative ways to access Innovation, 1st June 2021, 3.00pm – 5.30pm CET
---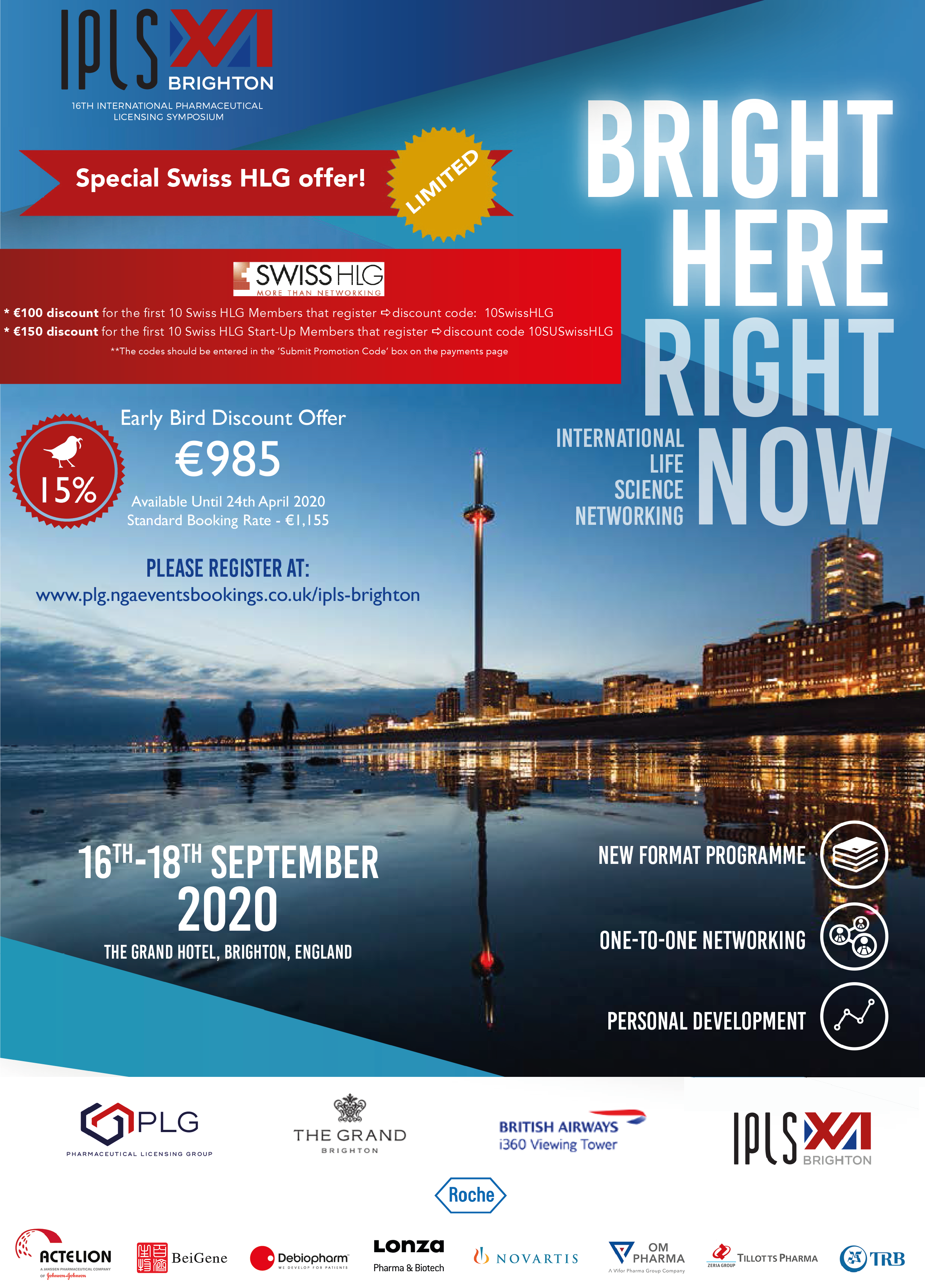 SWISS HLG WINTER CONFERENCE 2020
2nd to 4th February 2020
Jugendstil-Hotel Paxmontana, Flüeli Ranft, Switzerland
"DEAL-MAKING IN THE ROUGH?"
Register now to reserve your place and to receive your early bird specials!
For full conference details and easy registration, click below:
---
XV International Pharma Licensing Symposium 2019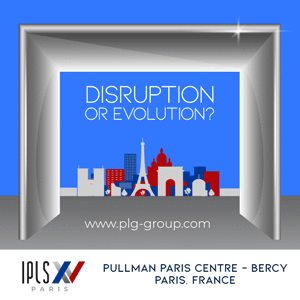 IPLS 2019 FLYER Disruption or Evolution discount flyer
Swiss HLG, member of the European Pharma Licensing Council (EPLC), invites you to join the International Pharma Licensing Symposium in Paris

Without question we live in interesting times, the 15th IPLS has been
designed to explore some of the more disruptive influences and opportunities in the life science industry today.

Two days of informative presentations from industry leading speakers, peer to peer networking, one-to-one meeting opportunities and continuous personal development, all in the world's most popular and dynamic city, Paris.

Conference Programme Includes:

Contemporary Trends in Pharma Business Development
Artificial Intelligence
Medical Cannabis
Evolution of Business Development Teams

Ageing, a New Field of Investigation & Investment
The Continuum of Ageing & Age-Related Diseases
Ageing Opportunities in Pharmaceuticals
New Therapeutic Advances

And much more, including 7 hours of dedicated one-to-one partnering
Full Programme & Event Website

REGISTER ONLINE NOW
---
Swiss HLG Winter Conference 2020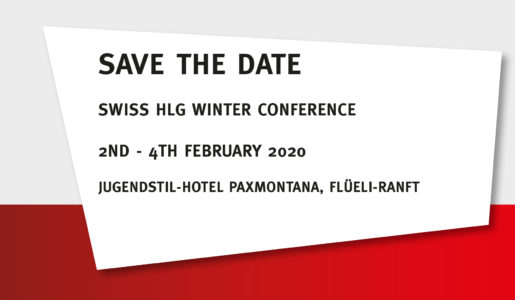 ---
Italian HLG & Swiss HLG Summer Conference 2019
Following a long time collaboration between our associations, the Swiss HLG is joining the Italian HLG to co-organize the Summer Conference 2019 in Milan, Italy.
A great program with experts from Italy, Switzerland and the UK will be discussing "Trends in Business Development & Licensing in the Pharmaceutical and Healthcare industry."
Networking opportunities are planned to facilitate business contacts and discussions during our social events with cocktail, dinner and a walk in the Navigli area in Milan.?
For more detailed information on the program and speakers click here
When: 6th – 7th June 2019
Where: Art Hotel Navigli, Via Angelo Fumagalli, 4, 20143 Milan
REGISTER HERE ? Discounted prices for Swiss HLG members and very attractive conditions for non-members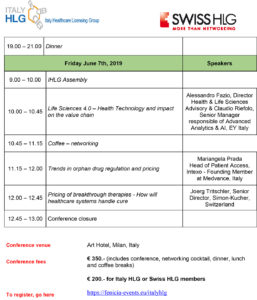 ---
Swiss HLG will be present at The Swiss Biotech Day. Come and visit us!
The Swiss Biotech Day has long become the standard annual get-together of the Swiss bio­pharmaceutical industry. And Basel, as one of the most vivid cities in terms of biotechnological and pharmaceutical research, development and production, proved to be the ideal location.
The SBD is not just the place to be for members of the Swiss Biotech Association, who traditionally meet there for the association's Annual General Assembly. As always, the event targets entrepreneurs, investors, researchers, analysts, BD&L, political decision makers, industry stakeholders and media.
Event highlights in 2019 will be:
· 700+ attendees from 20+ countries
· Presentation of the Swiss Biotech Report
· Swiss Biotech Success Stories
· Parallel tracks in the afternoon focused on innovative biotech start-ups and medium-sized biotech companies
· Thematically focused panel discussions on e.g. finance, production and licensing
· Pre-scheduled one-to-one partnering meetings for all attendees
· High-traffic exhibition with ongoing catering
To REGISTER and for more information – CLICK HERE
---
Swiss HLG Winter Conference, 3rd – 5th February 2019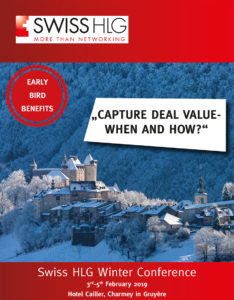 We are all interested in making deals and see more of these in the media; this is at least the "bread and butter" for BD&L professionals and what they are measured against.
Main questions in this context are not only to explore creative deal structures on how to maximise the value of any asset. We are all focusing on and thus serving the shareholders
to achieve their goals but also when the right time is to harvest the asset value they invested in for many years.
During the Conference, we will shed light on how to capture the maximum value for a deal
in the best manner and at the right time. The conference shall have three streams:
• Learning how synergies may be exploited for example during M&A transactions.
• Discussing the need for strategic access to new technologies.
• Looking at new players such as new public and public-private funding schemes as well
as patient and non-profit to support R&D funding.
Join us on Sunday afternoon to be part of our exciting 2019 Winter Conference with high-caliber speakers covering interesting topics.
Explore our inspiring program which will be available on our conference website
www.swisshlg-conference.com It will be updated regularly over the next few weeks with newly confirmed speakers their abstracts and bios.
Please take advantage of our early bird benefits! Register now and secure a conference space as well as hotel booking. There are several options available for hotel bookings
within different price categories, but all are limited.
We are looking forward to welcoming you at the 2019 Swiss HLG Winter Conference in the fascinating scenery of the Gruyère region. Let's learn together how to best capture deal
values!
Swiss_HLG_Winter_Conference_2019_flyer
---
IPLS -Montreux, Switzerland, 19th – 21st September 2018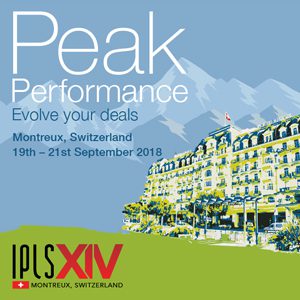 The EPLC and Swiss HLG are delighted to invite you to the 14th International Pharmaceutical Licensing Symposium; Peak Performance. To be held in Montreux, Switzerland, 19th – 21st September 2018.
Program
This year the EPLC have put together a program with the theme of Peak Performance designed to help you evolve your deal making in an ever-changing Business Development environment.
One to One Networking
Relevant and Interesting Deal Case Histories
Updates on Political Impacts to the Market
Contemporary Regulatory and Market Access Reform
BD, a Cross Boarder Business
Industry leading Speakers
Why you should register
The IPLS is an opportunity to candidly discuss pressing issues with your senior industry peers
Using the one to one meeting system you can efficiently meet prospective partners in a cost effective and time efficient manner
Personal Development: keep yourself updated by attending presentations and seminars highlighting best practice in deal making
New ideas and contacts to help make your business grow
Who should attend
Business Development Executives, General Managers, Directors, Owners, Executives in Marketing, Regulatory & Finance from the Healthcare sector, from all countries
XIV IPLS, Montreux – Registration Details
---
8th IPLS in Madrid – Early Bird Registration Extended until Friday 8th May!

Don't miss out on the early bird discount for the 8th IPLS in Madrid. This offer has been extended until Monday 8th of May, so there's still time to register at this great price!
Special Offer for Swiss HLG Members
Benefit from an additional €100 discount, if you are one of the first 20 Swiss hLG members to register. Combine this offer with the early bird special and pay only €775 for this 2-day event. Please highlight that you are entitled to the Swiss HLG offer on your registration for.
Not yet a member? Find out why it's worth joining us!
Location: NH Collection Eurobuilding Hotel, Madrid
Dates: Thursday 28th September to Friday 29th September 2017
Early Bird Price: €875.00
Normal Price: €1025.00.
(Early Bird Price available until 8th May 2017)
Download the brochure, including the Agenda and Registration form
here
.
---
New Feature – Start-up Pitches at the joint
Swiss HLG and Biopole Summer Conference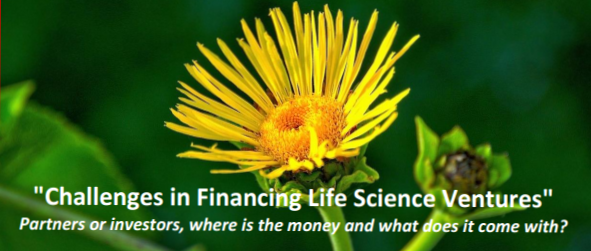 June 15, 2017 – Aquatis Hotel Lausanne
While registration has only been open for a few weeks, the conference is filling fast, with a quarter of all places already reserved! This exciting conference has a new feature – the start-up pitches. These will provide a great opportunity to find out about the innovation occurring in Switzerland, as well as what is needed to make it as a start-up and what's involved in successfully financing your venture.
"Challenges in Financing Life Science Ventures", will give participants the opportunity to connect with start-up friendly organisations, such as Inartis, BioAlps and VentureLab as well as providing opportunities to gain expert insights from start-up founders, including Geneuro, that have already paved the way with their IPO journeys.
Big Pharma will be there too. You'll hear from both VC and BD&L functions, who will explain their financial language differences, helping you to know how to approach the right organisation at the right time!
We haven't forgotten the importance of networking, and as with any Swiss HLG event, there will be plenty of opportunities for you to connect with speakers and attendees. If you are a Swiss HLG Member, we've taken this a step further by arranging a member's only evening on the 13th of June, where you will have the exclusive opportunity to meet the speakers, organisers and sponsors of the Summer Conference, before the crowds arrive.
Not yet a member? Why not join us? As a member, you'll also receive a CHF50- reduction in the registration cost along with many more great benefits.
This exciting one-day conference will be held on June 15, 2017, at the Aquatis Hotel, Lausanne. For members of Swiss HLG, stay tuned! Invitations to our members only event, to be held on the evening of the 14th of June, will be sent out shortly.
Please download the attached Summer Conference Flyer, where you will find all the links and information necessary for registration, discounted hotel reservations, full program and speaker details.
We look forward to seeing you there.
Warm Regards,
Kim Bill
Conference Director & Board Member, Swiss HLG
---
Swiss HLG Start-Up Initiative – New Workshop for 2017
ValuBiopôle
ation of Early Stage Biotech Companies
"Net Present Value versus VC approach"
Wednesday, March 29th, 2017
---
Swiss HLG and BaselArea.swiss are excited to present the Swiss HLG's latest start-up workshop collaboration. We will explore the value of science vs. the value of cash in the valuation of a Biotech company.The risk-adjusted, net present value (rNPV) method is the standard valuation method used within pharma and biotech companies when valuing assets beyond discovery stage.
This approach depicts the drug/pipeline development plan, using R&D costs & timeline, success rates and peak sales potential.The quantity of available information in the pharmaceutical area enables us to determine and provide benchmarks for these assumptions. Well-calibrated, the rNPV method is thus a powerful tool to build, challenge and value the company's strategy. It also shows how the value of the company develops as it reaches various milestones. Is it, however, enough for investors?
From an investor's perspective, it is crucial to understand how long it will take before they can exit and what is the potential for ROI (Return on Investment)? They need to figure out the conditions necessary to harvest their investment and anticipate the multiple later-round investors and incentive packages required for key employees, that may otherwise, dilute their stake. While rNPV highlights the roadmap for the companies 'scientific bet', it is the VC method that is the roadmap for the cash investment.
The purpose of this workshop is to decrypt the reasons behind using rNPV or VC methodologies to value a Biotech company. With the support of interactive cases, the participants will learn how Biotech companies can better anticipate the VCs' point of view when presenting their valuation work.
Workshop Details:
Wednesday, March 29th, 2017
Technology Park Basel
(Hochbergstrasse 60C, 4057 Basel)
16:00-19:00
Agenda
16:00 – Introduction by Stephan Emmerth, BaselArea.swiss
16:05 – Introduction by Zaki Sellam, Swiss HLG
16:10 – Marie Petit, Villiger Valuation
18:00 – Apero
Participation is free of charge, but seats are limited.
To register, please email: Stephan.emmerth@baselarea.swiss
Registration is compulsory and subjected to validation. Priority is given to people with founded start-ups or concrete projects.
We look forward to meeting you there.
---
Swiss HLG Summer Conference
"Challenges in Financing Life Science Ventures"
Partners or Investors, where is the money and what does it come with?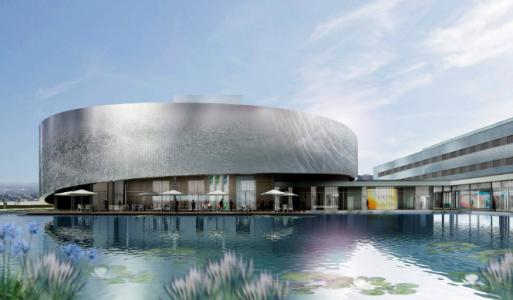 The 2017 Swiss HLG Summer Conference, is a joint venture with Biopole SA and will be held on the 15th June at the Hotel Aquatis, Lausanne.
The aim of the conference is to establish high-quality networking among the Swiss Romand healthcare companies, including start-ups, medium and large pharma, life science, biotech and other hybrids of healthcare-centric players. There is also the opportunity for selected companies to increase visibility through conducting an elevator pitch of their innovation.
To express your interest in attending, please send an email to info@swisshlg.com, and we will send you the registration details, as soon as they are confirmed.
---
Swiss HLG Winter Conference – A Great Sucess!
Highlights from Day 1
We kick-started Sunday with a 2-hour workshop, presented by the dynamic and experienced Monika Naef, Certified Global Negotiator and Partner at DUFOUR Attorneys. In this session, delegates were able to gain hands-on experience, negotiating their way out of "An Agreement Gone Sour".
Over coffee, delegates could network with new colleagues and catch up with old friends before the official welcome and opening of the conference was given by Gabrielle Gache, President of Swiss HLG.
Thomas Szucs, Chairman of the Board for Helsana Health Insurance, captured the audience with his opening keynote speech – "Developing New Medicines in a Time of Cost Containment".
This was followed by a presentation on "Healthcare Trends and their Impact on Corporate Transactions", given by Dominik Hotz, Partner, PricewaterhouseCoopers.
To finish the day's speakers, Marc Churin, HR Manager Switzerland, for Samsic, gave a lively and interactive personal development session on the "Use of Social Media, Beyond Business Networking". He showed delegates the many benefits of being a dedicated LinkedIn user, creating synergies and how to reach anyone, in any company, worldwide, within 5 minutes!
In the evening, everyone enjoyed a finger food, buffet dinner, with options to dine inside or out. Great opportunities to network in a relaxed atmosphere, combined with eating warm soup and food prepared over the fire were a big hit among the delegates!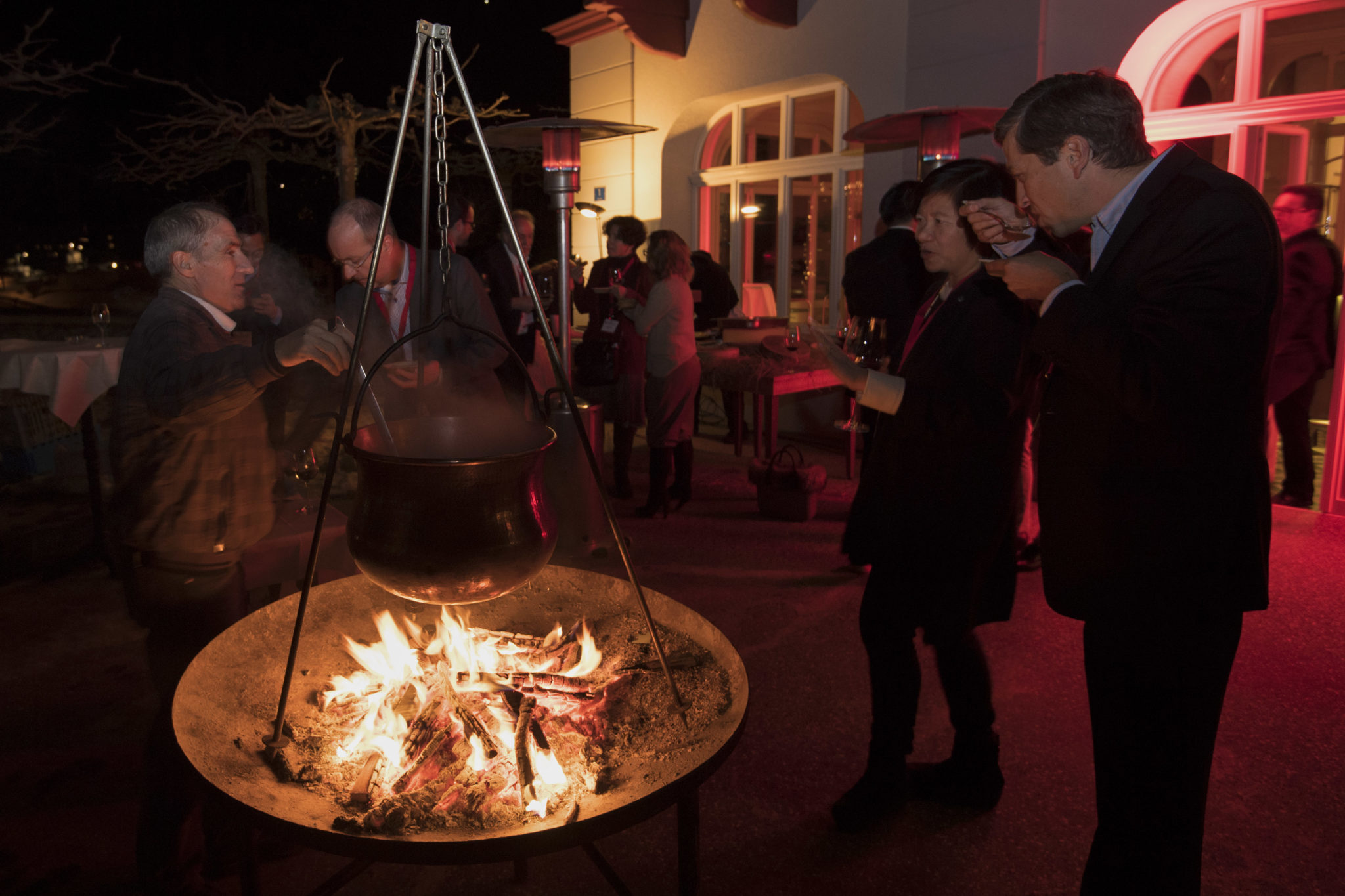 ---
SWISS HLG WINTER CONFERENCE 2017

WEBSITE AND REGISTRATION NOW OPEN!
Join us from January 29 -31, 2017
THEME: "Healthcare Megatrends – How do they impact business models and deal structures"?
The Swiss HLG Winter Conference aims to inspire and inform. Here is a glimpse of just a few of our upcoming outstanding speakers. They will share their insights on Healthcare Megatrends and the impacts they will have on our business models and deal structures.
Key Note Speakers and confirmed speakers
Michel L. Pettigrew
President of the Executive Board and Chief Operating Officer, Ferring Pharmaceuticals
Thomas Szucs
Chairman of the Board, Helsana
Dominik Hotz
Partner, PWC
Gregg Talbert
Global Head of Strategic Partnering, Roche
The Program will be complemented by a Personal Development Session on Networking run by Marc Churin, HR Manager at Samsic Swiss and a Pre-Conference Workshop "War of the Roses – Negotiating your way out," by Monika Naef, Lawyer, Dufour Attorneys and Notary Public.
What will we be talking about?
You can look forward hearing speakers share their knowledge and insights in the following areas of Healthcare Megatrends:
Demographic and Economic Perspectives
The Globalization Perspective
The Life Sciences – Bio-Entrepreneur, Investor and Patient Perspectives
Information Technology Megatrends
Megatrends and their Impact on Deal Structures
We will also be celebrating our 15th Jubilee. We look forward to having you join us for some stimulating and healthy debates and plenty of Swiss HLG fireside chats, and celebrations!
For full conference details and to register visit our Winter Conference website
---
SAVE THE DATE!
Swiss HLG 2017 Winter Conference, January 29 -31, 2017
Registration and early bird specials, open on September 22nd, 2016
THEME: Healthcare Megatrends
"How do they impact business models and deal structures"?
With registration dates confirmed, key-note speakers hand-picked and exciting topics chosen, don't forget to block out your calendar from the 29th-31st of January. Combine this exciting conference with our 15th-anniversary celebration at the beautiful Jugendstilhotel Paxmontana in Flueli-Ranft, near Lucerne.
Read on to find out more about what the Swiss HLG Winter Conference has in store for you.
Abstract:
Megatrends are sustained, global, social, economic, political, environmental or technological changes. They are here to stay and will make a considerable and durable impact on the healthcare environment by creating new opportunities, challenges and risks for our businesses.
The Swiss HLG 2017 Winter Conference, has invited renowned specialists from the pharma, healthcare, information technology, finance, insurance and academic worlds to address this theme. Along with other topics, they will review and discuss the implications of the following Megatrends:
Demographic/epidemiological changes, including a global ageing population and the increasing prevalence of chronic degenerative diseases
Economic changes such as the increasing financial pressure on healthcare care costs and the impact of evolving geographical and developmental disparities
Biotechnology advances, like new opportunities offered by gene editing and immune checkpoint inhibition
Information technology development, especially big data collection and connected devices with e-health applications
The presenters will challenge our present assumptions by sharing their insights on these Megatrends and the impacts on our business models and deal structures in the foreseeable future. There will also be exciting open panel discussions, where input from all participants will be welcome, to better define, describe and address these upcoming challenges.
Stay tuned for more information. For highlights from the 2016 Winter Conference, held at the same stunning venue, click here
---
Exciting New Initiative!


EPLS & Europharm SMC B2B Meetings – Wednesday 21st September 2016
Come a day early to the 8th EPLS in Brussels, on Wednesday 21st September, and get involved in a great new initiative, co-organised by EPLS and Europharm SMC! They have established an exciting afternoon of B2B, One-to-One business meetings, which will be held at the Radisson Blue Royal Hotel, Brussels.
These B2B meetings will be a great opportunity for HLG/PLG and Europharm SMC members to meet, network and to do business. Full details of how to register can be seen at the Europharma website
---
Only two months until kickoff!
8th European Pharma Licensing Symposium – Brussels on September 22nd & 23rd, 2016
Don't forget to register for the 8th EPLS in Brussels. A summary of the conference is below, and you can follow the links for registration and more information.
Swiss HLG Member Discount – Provide your Swiss HLG Member number when you register and receive an extra 100 euros discount.
This year the Executive Committee have once again put together an exciting programme of presentations and social events. The two-day event will feature 5 sessions with presentations, case studies and a panel discussion on different aspects of the industry covering: Strategic Issues, Deal Finances & Valuation, Biosimilars / Generics, Panel Discussion – European Market Access (with representation from France, Germany, Italy, Spain and the UK) and Patient Centricity / Digital health.
Take the opportunity to hear about the next level of Swiss HLG's Good Partnering Practices (GPP) Initiative on Friday morning.
The main gala dinner will be held on Thursday evening at the elegant Théatre du Vaudeville, a 2-minute walk from the Radisson Blue Royal Hotel and 1 minute from the Grand Place. This stunning theatre was inaugurated in 1884 and has since been restored to its former Victorian glory. Guests will be welcomed with a networking drinks reception before dinner is served in the Theatre.
For details on the conference program and venue, please visit the PLG Website.
The Swiss HLG board looks forward to meeting you there!
---
1st Swiss HLG Start-up Initiative in Basel on April 27, 2016, in association with iNet
Workshop title: "Partnering – realize value without dilution."
This work­shop will show how emer­ging heal­th­care start-ups can ex­pe­dite growth through part­ne­ring and wi­thout equity di­lu­tion. It will ad­dress the key steps, op­por­tu­ni­ties, bot­tle­necks and chal­lenges in part­ne­ring. It is in­ten­ded for en­tre­pre­neurs, people wi­shing to start a heal­th­care com­pany as well as emer­ging com­pa­nies' CEO/bu­si­ness de­ve­lop­ment exe­cu­tives that wish to un­ders­tand the basic prac­tices of pro­ject va­lua­tion, ne­go­tia­tion, and part­ne­ring. Focus will be on part­ne­ring R&D tech­no­lo­gies as well as pre-cli­ni­cal and cli­ni­cal – stage assets.
Be­sides theory, most of the se­mi­nar will be very prac­ti­cal work on case stu­dies and at­ten­dees are in­vi­ted to sub­mit cases to be dis­cus­sed du­ring the event.
The work­shop, which will be held on April 27th, 2016, lo­ca­tion to be de­ter­mi­ned, is or­ga­ni­zed by the Swiss HLG, a so­ciety de­di­ca­ted to best prac­tices in li­cen­sing and bu­si­ness de­ve­lop­ment, to­ge­ther with i-net.
Pro­gram
15:00
Welcome & introduction to Swiss HLG and i-net – Gabrielle Gache, president Swiss HLG; Zaki Sellam, board member Swiss HLG; Stephan Emmerth, i-net
15:15
Emerging company perspective – Helmut Kessmann (Polyphor, T3 Pharma)
Big Pharma / corporate VC perspective – Markus Goebel (Novartis Venture Fund)
17:00
Coffee Break
17:30
Practical work – case studies
19:00
Apero and Networking
The par­ti­ci­pa­tion at the event is free of charge, but seats are limited. Please note that re­gis­tra­tion via email to stephan.emmerth@i-net.ch is com­pul­sory and sub­ject to va­li­da­tion. Prio­rity will be given to people with concrete projects and or those from al­ready foun­ded heal­th­care start-ups.
We look for­ward to mee­ting you there!
---
Meet Swiss HLG members at HLG Italy – PLG CEE joint conference on May 19th- 20th, 2016 in "Star Hotel Ritz", Milan
Conference Title: "Pharma Partnering: Spotlight on Italy and Central & Eastern Europe".
For more information about the program and registrations, fill in the registration form at fenicia-events.eu/plg-hlg
---