January 29th to 31st, 2017 
Jugendstilhotel Paxmontana, Flüeli Ranft
We are excited to release to you the >>> Winter Conference Agenda.  Over two and half days, we will share with you some of the most cutting-edge information for business licensing professionals on the theme of Healthcare Megatrends.
Meet your friends and colleagues, join us to dine in fine Swiss style and enjoy the good company around the outside fireside. In honour of those that started the Swiss Healthcare (Pharma) Licensing Group, we have invited our founding members to participate in a special panel discussion: "Megatrends – then, now, tomorrow." It will be followed by our 15th-anniversary celebration on Monday evening.
A must-attend conference for any BD&L Professional!
Don't miss out on this unique opportunity! To be part of this exciting event and to receive your Early Bird discount, don't forget to >>> register before the end of November!
Here's an outline of what's in store:

Swiss HLG, in collaboration with Inartis, Agire and CP Start-up, are excited to present their joint Start-up conference, to be held in Lugano, Ticino from 9.30am – 16.00pm, on the 24th of November, 2016.
This conference and workshop is the expression of a joint desire by organisers to promote Life Science Start-ups in Ticino. Each organisation is bringing its own expertise to support entrepreneurs and will share the expertise and knowledge, already available.
The venue for the conference is the beautiful LAC (Lugano Arte e Cultura), the new home of the Lugano Theatre, Opera and Museum, situated right on Lugano Lake.
Find out all the latest Programme and Registration detailsflyer-ticino-conference-24th-november-181017-final

SWISS HLG WINTER CONFERENCE 2017 & 15th JUBILEE
CONFERENCE TOPIC:  "Healthcare Megatrends: How do they influence business models and deal structures?"
29th to 31st January, 2017
Jugendstil-Hotel Paxmontana, Flüeli Ranft, near Lucerne, Switzerland
The much awaited Swiss HLG Winter Conference website is now live!  Register now to reserve your place and to receive your early bird specials!
For full conference details and easy registration, go to:       swisshlg-conference.com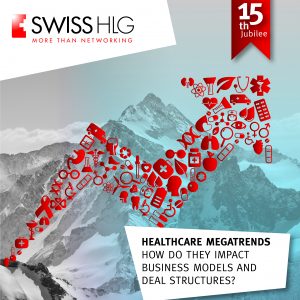 It's September 22nd, our new conference website has gone live, and Registration is now open!
This year's Winter Conference topic is:
"Healthcare Megatrends – How do they influence business models and deal structures?"
It will be held on the 29th-31st January 2017, at the Jugendstil Hotel Paxmontana, Flüeli Ranft. We would like to invite you to visit our new conference website .  Here you can explore our Healthcare Megatrends programme, find out how to join us for this exciting conference and, our 15th Jubilee anniversary.
Click on our Participation Page, for all the early bird specials and registration details.
Find out all the latest Programme details here.  This page will be updated regularly, to keep you informed as our speaker list is finalised and topics evolve.  You'll already find information on a few of our speakers, including:
Michel L. Pettigrew
President of the Executive Board and Chief Operating Officer, Ferring Pharmaceuticals

Thomas Szucs
Chairman of the Board, Helsana

Dominik Hotz
Partner, PWC

Gregg Talbert
Global Head of Strategic Partnering, Roche
If you have any queries that are not answered on the Winter Conference website, please don't hesitate to contact us at Swiss HLG.