Quickly consult our archives filtering by year :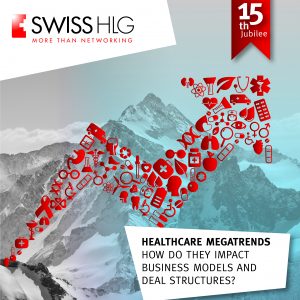 It's September 22nd, our new conference website has gone live, and Registration is now open!
This year's Winter Conference topic is:
"Healthcare Megatrends – How do they influence business models and deal structures?"
It will be held on the 29th-31st January 2017, at the Jugendstil Hotel Paxmontana, Flüeli Ranft. We would like to invite you to visit our new conference website .  Here you can explore our Healthcare Megatrends programme, find out how to join us for this exciting conference and, our 15th Jubilee anniversary.
Click on our Participation Page, for all the early bird specials and registration details.
Find out all the latest Programme details here.  This page will be updated regularly, to keep you informed as our speaker list is finalised and topics evolve.  You'll already find information on a few of our speakers, including:
Michel L. Pettigrew
President of the Executive Board and Chief Operating Officer, Ferring Pharmaceuticals

Thomas Szucs
Chairman of the Board, Helsana

Dominik Hotz
Partner, PWC

Gregg Talbert
Global Head of Strategic Partnering, Roche
If you have any queries that are not answered on the Winter Conference website, please don't hesitate to contact us at Swiss HLG.

Start-ups, Life Science and Business in Ticino
Swiss HLG, in collaboration with Inartis, Agire and CP Start-up, are excited to present their joint Start-up conference, to be held in Lugano, Ticino from 9.30am – 16.00pm, on the 24th of November, 2016.
This conference and workshop is the expression of a joint desire by organisers to promote Life Science Start-ups in Ticino. Each organisation is bringing its own expertise to support entrepreneurs and will share the expertise and knowledge, already available.
The venue for the conference is the beautiful LAC (Lugano Arte e Cultura), the new home of the Lugano Theatre, Opera and Museum, situated right on Lugano Lake.
If you're interested in registering for the conference, please send an email to info@swisshlg.com and insert the following, into your subject line: "Yes, I would like to register for the Autumn Start-up Conference".  We will contact you with further details.
For full programme details and a list of speakers, download the brochure here: flyer-ticino-conference-24th-november-2016

REGISTRATION & EARLY BIRD SPECIALS OPEN ON SEPTEMBER 22nd 2016
The Swiss HLG Winter Conference aims to inspire and inform. Here is a glimpse of just a few of our upcoming outstanding speakers. They will share their insights on Healthcare Megatrends and the impacts they will have on our business models and deal structures.
Keynote Speakers and Confirmed Speakers
Michel L. Pettigrew
President of the Executive Board and Chief Operating Officer
Ferring Pharmaceuticals
Thomas Szucs
Chairman of the Board
Helsana
Dominik Hotz
Partner
PWC
Gregg Talbert
Global Head of Strategic Partnering
Roche
The Program will be complemented by a Personal Development Session on Networking run by Marc Churin, HR Manager at Samsic Swiss and a Pre-Conference Workshop "War of the Roses – Negotiating your way out," by Monika Naef, Lawyer, Dufour Attorneys and Notary Public.
What's on the Agenda?
You can look forward hearing speakers share their knowledge and insights in the following areas of Healthcare Megatrends:
Demographic and Economic Perspectives

The Globalization Perspective

The Life Sciences – Bio-Entrepreneur, Investor and Patient Perspectives

Information Technology Megatrends

Megatrends and their Impact on Deal Structures
We look forward to stimulating and healthy debates!
Winter Conference Website and Registrations
Our Winter Conference website and registration, open tomorrow on the 22nd of September. We will be regularly updating it, to ensure that you have all the latest conference news. To register, simply go to the Winter Conference website at www.swisshlg-conference.com and follow the links to registration and early bird special offers. We are very much looking forward to having you join us!
With delegates from over 17 countries, don't miss your opportunity to register for the 2-day symposium, on September 22nd & 23rd 2016.
Join us on Friday 23rd at 8:30am as our Board member, Christoph Daniel Maier, shares the next chapter in the Swiss HLG's Good Partnering Practices Initiative (GPP).
If you are one of the first 20 Swiss HLG members to register, you can also benefit from our special offer and get an additional 100€ discount. Please HIGHLIGHT that you are entitled to the Swiss HLG offer on the registration form.
Conference Topic: "New Health Economy and its Impact on Deal Making."
Featuring five sessions with presentations, case studies, and a panel discussion.
Topics include:
Strategic Issues

Deal Finances & Valuation

Biosimilars / Generics

Panel Discussion  on European Market Access, which will be presented by panelists from France, Germany, Italy, Spain and the UK

Patient Centricity / Digital Health
To register and for the full programme go to the EPLS website.
Pre-Conference B2B
Come a day early on Wednesday 21st September and get involved in a great B2B Meeting before the EPLS.  Organised in collaboration with PLG Europe (The Pharmaceutical Licensing Group) and it's a great opportunity to meet, network and to do business.  The pre-event online delegate contact system is now available.  You can organise your 1:1 meetings before you arrive!
To register, go to the Europharma SMC website