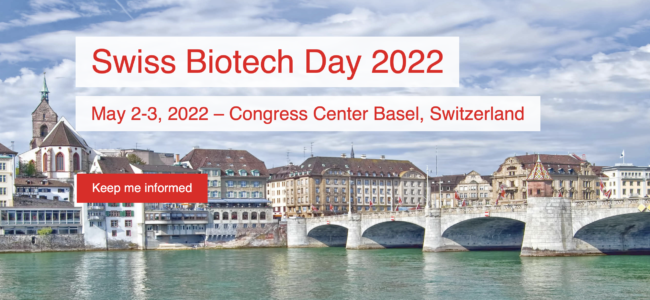 The Swiss Biotech Day is one of the leading biotechnology conferences in Europe and a fixed date in the community's calendar. With more than 850 participants, it had a successful comeback as a live event in 2021, and documented the impressive growth of the Swiss biotech industry in the midst of the pandemic.
An inspiring program with thematically focused panel discussions, exhibitions, company presentations, and partnering are the cornerstones of this networking event's lively atmosphere. Together with our business associates and investors, the Swiss Biotech Day is a great place to discover trends in research and development, production, data management, artificial intelligence, and innovative financing, as well as to discover opportunities and synergies offered by the close collaboration of biotech and pharma. 
 In 2022, the Swiss Biotech Day is further developing into a truly global networking day and extending to 1.5 days. This prolongation gives room for more information, more discussion, more pitches, more networking, and more time to find interesting partners for future projects and to advance biotechnology.
Swiss Biotech Day highlights
 850+ senior experts from the life science industry
Thematically focused panel discussions
Pre-scheduled one-to-one partnering meetings
Presentations of innovative biotech start-ups and medium-sized biotech companies 
50+ exhibitors from across Europe 
International delegations and investors   
Swiss Biotech Success Stories Awards
General Assembly of the Swiss Biotech Association