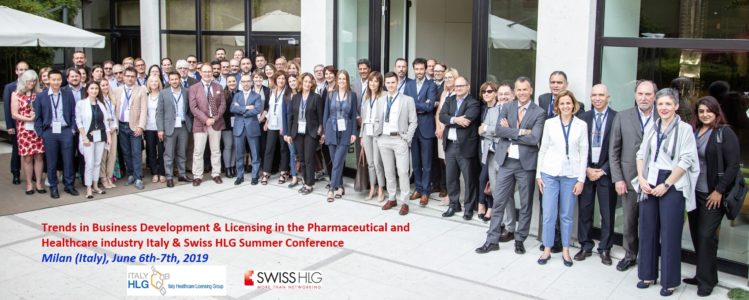 The joint summer conference between the Italian and Swiss Healthcare Licensing Groups took place on the 6th – 7th June in Milan. Over 80 attendees enjoyed the cutting-edge conference on various topics including, The current Italian and Swiss pharmaceutical markets evolution, Partnering in the field of advanced therapies, analysis of 2018 and beginning of 2019 BD&L deals with an interesting discussion about the trends. The artificial intelligence and its impact on BD&L, Business intelligence as a tool to evaluate new BD&L opportunities, Health technology and its impact on the value chain and Trends in the orphan drugs regulations and pricing and pricing of breakthrough therapies in a challenging healthcare system.
We are grateful to all our speakers who accepted our invitation and shared their expertise and knowledge graciously. A big thank you to the audience who showed a keen interest through active participation in the discussions. It was a great moment also for networking and BD&L opportunity seeding
Thank you to our friends from Italy HLG, who hosted the conference. Looking forward to other future collaborations!