Quickly consult our archives filtering by year :
BD&L in 2021
21st & 22nd April 2021
It is a great pleasure to inform you about the collaboration between Swiss HLG and our international network IPLS (www.ipls.online) for the next spring conference "Rebound & Recover" planned for 21st-22nd April.
At this occasion, you'll have the opportunity to set up virtual one-to-one business meetings with your peers, without traveling, over 2 days and participate to several conferences to keep you up-to-date about the trends in our industry. This will help you and your business during this pandemic to substitute your business travels.
Take advantage of the early bird rate and register asap at: www.ipls.online.  If you need any help please contact Adam Collins at acollins@ngaevents.co.uk or Andrew Dean at andrew.dean@presentvalueltd.com
Several sponsoring opportunities are also offered, to give more visibility to your company and business inside this network of over 1'700 BD&L professionals. Join current sponsors: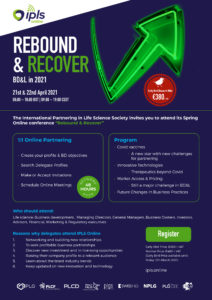 Financing and Deal-making in turbulent times, 2nd March 2021, 3.00pm – 6.00pm CET
IPLS Online Event: 16th – 17th September 2020
IPLS Bright Online Conference is now open for registration.
Full access to the event website where the presentations will be broadcast, video content, details of the programme and speakers & online partnering system. Full Access Pass – €100.00 (EUR).
Simply click here to register!
EVENT SCHEDULE
Wednesday 16th September 2020
08.00 – 18.00
Online Partnering – 25 minutes per meeting
MORNING SESSION
08.45
Registration
09.00
Welcome & Introduction
09.05
Keynote Address
SHAUN GRADY
AstraZeneca
09.25
Covid-19: The First 6 Months
ANDREW DEAN
Present Value
09.45
Biopharmaceutical Sector: Financing and Deal Making Outlook
STEPHANIE LEOUZON
Torreya
10.05
Global Pipeline Overview
10.25
Closing Remarks
10.30
Close of Morning Session
AFTERNOON SESSION
15.15 – 15.30
Registration
15.30
Innovation from The Crick
BARBARA DOMAIN HAYMAN
The Francis Crick Institute
15.50
What's Hot in Oncology Deal Making- Where is the Low Hanging Fruit?
CHRIS SHELDON
AstraZeneca
16.10
Gene Therapy Comes of Age
16.30
BREAK
16.40
The Application of AI in Rare Diseases
BRUCE E. BLOOM & CLARA TANG
Healx
17.00
Pricing and Market Access in Rare Diseases
RAVI SODHA
Sodha Pharma Consulting
17.20
Closing Remarks
17.25
Close of Day 1
Thursday 17th September
08.00 – 18.00
Online Partnering – 25 minutes per meeting
08.45
Registration
09.00
Panel Discussion: Building Business Development Relationships in Covid-19 times

GEORG BUCHNER
Helsinn Healthcare

CHRIS VAES
J&J

JEAN-MARC SEQUIER
Novartis

TORU J. SEO
Pfizer

MICHAEL CROWLEY
F. Hoffann-La Roche
09.45
Panel Discussion: Impact of Covid-19 on Promotional Activities, Could Covid-19 Boost a Change of the Current Paradigm?

LARS BOERGER
Alliance Pharma

BENOIT SLAVICEK
Mundipharma
10.30
Closing Remarks
10.35
Close of IPLS Bright Online