Quickly consult our archives filtering by year :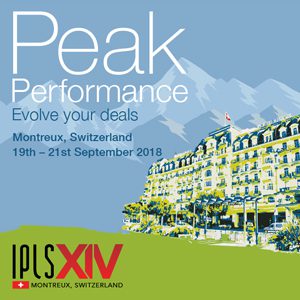 The EPLC and Swiss HLG are delighted to invite you to the 14th International Pharmaceutical Licensing Symposium; Peak Performance. To be held in Montreux, Switzerland, 19th – 21st September 2018.
Register online

HERE
Program-
This year the EPLC have put together a program with the theme of Peak Performance designed to help you evolve your deal-making in an ever-changing Business Development environment.
To take a look at the detailed program clickXIV-IPLS-Montreux-Programme-July-Update
One to One Networking
Relevant and Interesting Deal Case Histories
Updates on Political Impacts to the Market
Contemporary Regulatory and Market Access Reform
BD, a Cross Boarder Business
Industry-leading Speakers
Why you should register
The IPLS is an opportunity to candidly discuss pressing issues with your senior industry peers
Using the one to one meeting system you can efficiently meet prospective partners in a cost effective and time efficient manner
Personal Development: keep yourself updated by attending presentations and seminars highlighting best practice in deal making
New ideas and contacts to help make your business grow
Who should attend
Business Development Executives, General Managers, Directors, Owners, Executives in Marketing, Regulatory & Finance from the Healthcare sector, from all countries
SAVE THE DATE – for the Swiss HLG Annual Conference held at the scenic location Paxmontana Hotel near Lucerne from 31st January – 2nd February, 2021. Following the challenging year 2020, we will be glad to welcome you to exploit NEW HORIZONS.
We will discuss along with leading experts:
i. Recent evolution in deal-making, financing trends, and risk management in light of the 2020 experiences
ii. The impact of Digital Health technologies and partnering
iii. Creative accelerator as well as corporate structures to boost translation of innovation into new medicines
Don't miss it – registration opens mid September.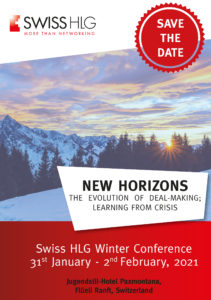 IPLS Online Event: 16th – 17th September 2020
IPLS Bright Online Conference is now open for registration.
Full access to the event website where the presentations will be broadcast, video content, details of the programme and speakers & online partnering system. Full Access Pass – €100.00 (EUR).
Simply click here to register!
EVENT SCHEDULE
Wednesday 16th September 2020
08.00 – 18.00
Online Partnering – 25 minutes per meeting
MORNING SESSION
08.45
Registration
09.00
Welcome & Introduction
09.05
Keynote Address
SHAUN GRADY
AstraZeneca
09.25
Covid-19: The First 6 Months
ANDREW DEAN
Present Value
09.45
Biopharmaceutical Sector: Financing and Deal Making Outlook
STEPHANIE LEOUZON
Torreya
10.05
Global Pipeline Overview
10.25
Closing Remarks
10.30
Close of Morning Session
AFTERNOON SESSION
15.15 – 15.30
Registration
15.30
Innovation from The Crick
BARBARA DOMAIN HAYMAN
The Francis Crick Institute
15.50
What's Hot in Oncology Deal Making- Where is the Low Hanging Fruit?
CHRIS SHELDON
AstraZeneca
16.10
Gene Therapy Comes of Age
16.30
BREAK
16.40
The Application of AI in Rare Diseases
BRUCE E. BLOOM & CLARA TANG
Healx
17.00
Pricing and Market Access in Rare Diseases
RAVI SODHA
Sodha Pharma Consulting
17.20
Closing Remarks
17.25
Close of Day 1
Thursday 17th September
08.00 – 18.00
Online Partnering – 25 minutes per meeting
08.45
Registration
09.00
Panel Discussion: Building Business Development Relationships in Covid-19 times

GEORG BUCHNER
Helsinn Healthcare

CHRIS VAES
J&J

JEAN-MARC SEQUIER
Novartis

TORU J. SEO
Pfizer

MICHAEL CROWLEY
F. Hoffann-La Roche
09.45
Panel Discussion: Impact of Covid-19 on Promotional Activities, Could Covid-19 Boost a Change of the Current Paradigm?

LARS BOERGER
Alliance Pharma

BENOIT SLAVICEK
Mundipharma
10.30
Closing Remarks
10.35
Close of IPLS Bright Online
With the current situation of Corona virus pandemic, the Swiss HLG board decided to cancel the Summer Conference 2020, which was scheduled to take place on 18th June 2020. The board is working on an alternative date which shall be communicated in due time.
Swiss HLG has contemplated a conversion of the event to a remote or virtual conference, as did some of the BD&L conferences, however Networking being one of our cornerstones, we preferred to postpone to a better time when we will be able to maintain our traditional conferences with the one-on-one interactions.
We are confident that you would understand and we thank you for your support.
We wish you and your family healthy weeks ahead.
Swiss HLG invites you to use our online form to give feedback and stay in touch in such challenging times: