Quickly consult our archives filtering by year :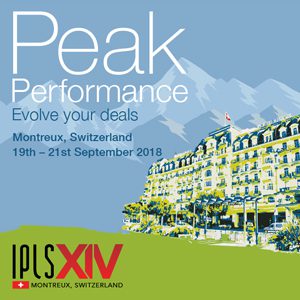 The EPLC and Swiss HLG are delighted to invite you to the 14th International Pharmaceutical Licensing Symposium; Peak Performance. To be held in Montreux, Switzerland, 19th – 21st September 2018.
Register online

HERE
Program-
This year the EPLC have put together a program with the theme of Peak Performance designed to help you evolve your deal-making in an ever-changing Business Development environment.
To take a look at the detailed program clickXIV-IPLS-Montreux-Programme-July-Update
One to One Networking
Relevant and Interesting Deal Case Histories
Updates on Political Impacts to the Market
Contemporary Regulatory and Market Access Reform
BD, a Cross Boarder Business
Industry-leading Speakers
Why you should register
The IPLS is an opportunity to candidly discuss pressing issues with your senior industry peers
Using the one to one meeting system you can efficiently meet prospective partners in a cost effective and time efficient manner
Personal Development: keep yourself updated by attending presentations and seminars highlighting best practice in deal making
New ideas and contacts to help make your business grow
Who should attend
Business Development Executives, General Managers, Directors, Owners, Executives in Marketing, Regulatory & Finance from the Healthcare sector, from all countries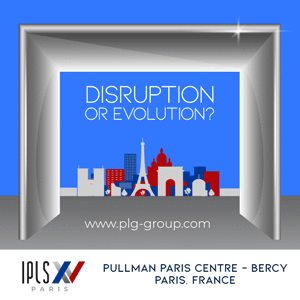 Special Swiss HLG offer!
 * €100 discount for the first 10 Swiss HLG Members that register – discount code:  10SwissHLG
 * €150 discount for the first 10 Swiss HLG Start-Up Members that register – discount code 10SUSwissHLG
**The codes should be entered in the 'Submit Promotion Code' box on the payments page
Swiss HLG, member of the European Pharma Licensing Council (EPLC), invites you to join the International Pharma Licensing Symposium in Paris

Without question we live in interesting times, the 15th IPLS has been
designed to explore some of the more disruptive influences and opportunities in the life science industry today.

Two days of informative presentations from industry leading speakers, peer to peer networking, one-to-one meeting opportunities and continuous personal development, all in the world's most popular and dynamic city, Paris.

Conference Programme Includes:

Contemporary Trends in Pharma Business Development
Artificial Intelligence
Medical Cannabis
Evolution of Business Development Teams

Ageing, a New Field of Investigation & Investment
The Continuum of Ageing & Age-Related Diseases
Ageing Opportunities in Pharmaceuticals
New Therapeutic Advances

And much more, including 7 hours of dedicated one-to-one partnering
Full Programme & Event Website

REGISTER ONLINE NOW
XV International Pharma Licensing Symposium
Pullman Hotel Paris Centre – Bercy
Paris, France
Wednesday 18th to Friday 20th September 2019

Who Should Attend? Business Development Professionals, Managing
Directors, General Managers, Business Owners, Investors, Advisors,
Financial, Marketing& Regulatory Executives

REGISTER ONLINE NOW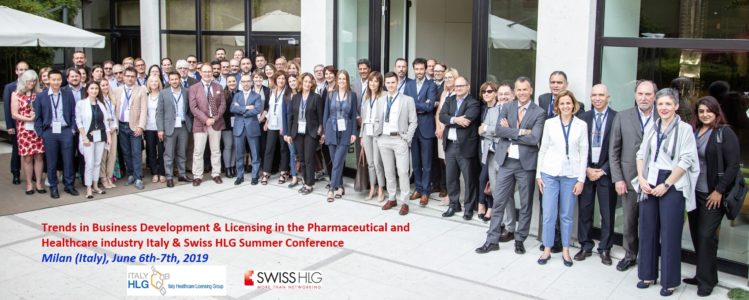 The joint summer conference between the Italian and Swiss Healthcare Licensing Groups took place on the 6th – 7th June in Milan. Over 80 attendees enjoyed the cutting-edge conference on various topics including, The current Italian and Swiss pharmaceutical markets evolution, Partnering in the field of advanced therapies, analysis of 2018 and beginning of 2019 BD&L deals with an interesting discussion about the trends. The artificial intelligence and its impact on BD&L, Business intelligence as a tool to evaluate new BD&L opportunities, Health technology and its impact on the value chain and Trends in the orphan drugs regulations and pricing and pricing of breakthrough therapies in a challenging healthcare system.
Read More…

 "Capture Deal Value – When and How?"
The 2019 Swiss Healthcare Licensing Group (HLG) Winter Conference focused on the topic "Capture Deal Value – When and How?"
The pharmaceutical industry is facing increasing challenges to cope with the quickly changing world economy. The requirements in healthcare are becoming ever more demanding considering the higher standard of data, financial investments and time, let alone governments` cost-containment measures getting more restrictive.
Both new and innovative molecules in the pipeline and growing access of patients to drug treatment especially in emerging markets are at the same time positive signals though. It seems that the pharmaceutical industry still finds room for creative ways to explore and implement new business models keeping pace with current changes in the healthcare environment.
Over three days, nearly 100 delegates from Switzerland, Europe, the US and Asia gathered in the Gruyère region to explore current and future innovative ways when and how to capture maximum deal value.
Conference Director, Ragip Ziyal with the active support of the entire Swiss HLG Board, gathered a global forum of high caliber speakers not only from the healthcare and consumer industry but also governmental initiatives to capture the maximum value for assets in the best manner and at the right time by (I) learning how synergies may be exploited for example during M&A transactions, (II) discussing the need for strategic access to new technologies and (III) looking at new players such as new public and public-private funding schemes as well as patient and non-profit organizations to support R&D funding.Read More…