Press Release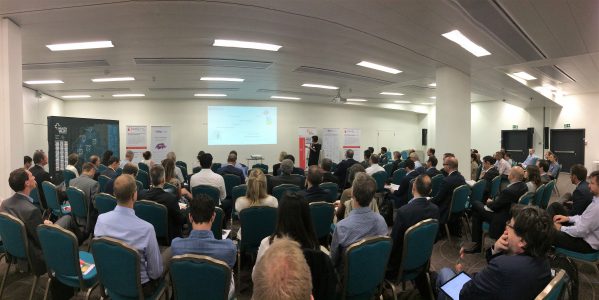 With over one hundred attendees, a great speaker line-up and dynamic and innovative pitches delivered by the start-ups, the joint Swiss HLG & Biopôle Summer Conference, held at the Aquatis Hotel, Lausanne, on June 15, exceeded expectations.
The conference explored the topic "Challenges in Financing Life Science Ventures – Partners or Investors, where is the money and what does it come with"? Speakers inspired and educated attendees on the realities of what is really needed to raise enough funds to take their research from innovative science and move it into the real world. Case studies, success stories and many learned lessons were shared with delegates.
Inspiring entrepreneur JM. Garcia, CEO of Geneuro, spoke about Geneuro's 11 years journey, their successes and experiences.  E. de La Fortelle, Partner at Seventure, used a real-world case study to demonstrate a Venture Capital view of how they assess the potential of successful start-ups. A panel made up of Innovaud, CTI, Inartis and BaseLaunch representatives, resp. PJ. Wipff, P. Harboe-Schmidt, J. Lemaignen and S. Emmerth, explained how their institutions support start-ups through coaching and financing. Via an open Q&A session, they answered delegates key questions, including the "when?", the "how?", the "for what?" and "for how long?".
Novartis representatives M. Goebel and A. Verbeek explained the various conditions required to partner with Corporate Venture Capitals and the several options offered. A special session was dedicated specifically to Venture Capitals with Ysios and Omega Funds representatives, K. Wagner and V. Ossipow respectively. They presented the VC view on start-ups financing and offered many take away messages. The Swiss HLG also took this opportunity to present their updated Good Partnering Practices, which supports start-up with partnering and they introduced a new membership offer, specifically for start-ups.
To conclude the conference, several start-ups pitches were presented. These were co-ordinated by venturelab representative J. Montserrat. The pitches came from Amal Therapeutics, Glycemicon, Inositec, Lunaphore and Versantis. The Swiss HLG will continue its initiative to collaborate in different Swiss regions, to support and develop start-ups in Switzerland.
From the organizers:
 "I am encouraged by the positive feedback from the participants. They particularly appreciated the well thought-out program and real-world learnings that they can apply in their work, as well as the unique opportunity to meet the mix of pharma, biotech, start-ups, research institutes, private, and public investors," said Kim Bill, Conference Director & Board Member Swiss HLG; VP, Global BD&L, Nestle Health Science. This demonstrates that the Swiss HLG is playing an important role in the start-up community and that we will continue to bring the stakeholders together in such forums to create the ecosystem that is so important in the life sciences and healthcare community in Switzerland."
"This conference is a great example of how Biopôle is creating a vibrant community for many key actors in Swiss life sciences", said Nasri Nahas, CEO Biopôle, "We are convinced that both the diversity and proximity of talents is crucial to generating the best ideas and fostering the most productive collaborations. Our new dedicated incubator StartLab will provide the perfect environment for aspiring life science entrepreneurs to translate their ambitions into business reality, and will give access the different financing routes discussed at this successful gathering with Swiss HLG members."
About Swiss HLG  

24th of August 2001, a group of business and licensing executives united in Basel and founded the Swiss Pharma Licensing Group. The first Board defined objectives recruited members and set up the foundation for today's association.
Swiss HLG is open to the international healthcare and life sciences industries and provides the richest possible environment for business development professionals to network, build strategic relationships, exchange ideas and to share experiences. To reflect our broad healthcare and life science industry mission and membership, the members voted at the General Assembly in January 2013, to change the name from "Swiss Pharma Licensing Group" to 'Swiss Healthcare Licensing Group.'
The current Board is proud of the Association's development and success.  Swiss HLG currently has more than 160 members (85% Swiss-based, others from Germany, France, Italy, Spain, UK, Ireland, Netherlands, USA, and South Korea). We have delivered 23 industry conferences, have an excellent national and international reputation for quality and we offer great opportunities for networking, education, and business development.
About Biopôle

Started in 2004 by the public authorities of the Canton of Vaud, Biopôle is a life sciences community bringing together industry and academia. Based in Lausanne, Switzerland, it offers a world-class combination of infrastructure, added value services, living space and community engagement where partners can thrive and bring science to life. The site houses more than 50 companies and institutions, including several head offices of multinational corporations, startups, and clinical development teams, together with technology and service providers. It also hosts 25 world-famous research groups, in particular, the Lausanne University Hospital (CHUV), the University of Lausanne (UNIL) and the Ludwig Institute for Cancer Research.
Biopôle's partners are able to benefit from cutting-edge expertise in certain disciplines, such as purchasing, finance, legal services, commercial development, communication, marketing, and training. While Biopôle is open to all therapeutic areas, the main focus is on developing innovative solutions in the fields of oncology, immunology, personalized medicine and nutritional health. Today over 1,200 professionals from over 30 nations enjoy a range of world-class facilities across ~80,000 m2 of landscape, which will include another 36,000 m2 of offices and laboratories in the period 2018-2020.
 Aquatis Hotel Lausanne, 15 June 2017

The Joint Swiss HLG & Biopole Summer Conference is less than 1 week away and we still have a few places available! Almost 100 attendees have already registered for this exciting one-day conference.
You can expect to learn the ins and outs of financing your start-up, through hearing success stories from those that have already traveled this path. They will inspire us with their tenacity and fund-raising journeys, and the what's, why's and how's of the choices they have made along the way.
We will quiz a panel about how public and semi-public organizations support and finance start-ups while the VCs will help us understand the hard and soft aspects of dilutive funding. You will also learn how to attract VC's, what it really means to accept money from others, what's in it for them and the start-ups and how to manage expectations from the very beginning, to ensure everyone can succeed.
So don't delay, Register now! For full conference details, the list of speakers and to view the agenda, please download our Summer Conference Brochure.17 06 15_Joint_Swiss_HLG_Biopole_Summer_Conference
We look forward to seeing you there!

June 15, 2017
Aquatis Hotel, Lausanne
There are only 4 weeks to go until the Joint Swiss HLG & Biopôle Summer Conference kicks off and already more than 60 delegates are registered! Don't miss out on this exciting conference, covering the ins and outs of financing a Life Science Venture.
Our speakers are diverse and include key people from start -up friendly organizations, companies, and big pharma.
Here are just a few:
Jesus Martin-Garcia, CEO Geneuro, will speak candidly about his company and its 11-year journey from theory to clinical POC
Markus Goebel, MD Novartis Venture Fund and Alette Verbeek, Worldwide Head BD&L, Cardio-Metabolic, Novartis will guide you through the world of Big Pharma funding for Start-ups.
Panel Discussion from start-up friendly organizations such as BaseLaunch, Inartis, CTI, and InnoVaud, will explore how public and semi-public organizations support and finance start-ups.
To review our updated program and completed speaker list, please download our Summer Conference Flyer.
.Joint Swiss HLG Biopole Summer Conference 17 06 15
To Register, please go to our Registration website and sign up now!
We look forward to seeing you there!

Don't miss out on the early bird discount for the 8th IPLS in Madrid. This offer has been extended until the 31st of May, so there's still time to register at this great price!
Special Offer for Swiss HLG Members
Benefit from an additional €100 discount, if you are one of the first 20 Swiss hLG members to register. Combine this offer with the early bird special and pay only €775 for this 2-day event. Please highlight that you are entitled to the Swiss HLG offer on your registration for.
Not yet a member? Find out why it's worth joining us!
Location: NH Collection Eurobuilding Hotel, Madrid
Dates: Thursday 28th September to Friday 29th September 2017
Early Bird Price: €875.00
Normal Price: €1025.00.
(Early Bird Price available until 8th May 2017)
Download the brochure, including the Agenda and Registration form
here
.